This Week in Classical Music: October 2, 2022.  Schoenberg, Part IV, In America.  This is the fourth, and – we promise – last installment of our notes on the great Austrian composer Arnold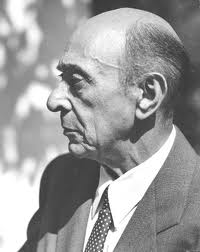 Schoenberg.  He arrived in the United States on October 31st of 1933 and spent the first year in Boston.  He probably would've stayed longer but Boston's weather made his asthma worse, and in September of 1934 Schoenberg moved to Los Angeles.  He wrote to his friend, the conductor Fritz Stiedry, who was then working in the Soviet Union: "We are going to California for the climate and because it is cheaper (sic!)".  He eventually settled in Brentwood and lived there for the rest of his life.  To support himself, he gave private lessons (Oscar Levant was one of his students), but soon was invited to lecture at the University of Southern California.  In 1936 he was made a professor at the UCLA.  Otto Klemperer, who emigrated from Germany in 1933, was at the time the music director of the Los Angeles Philharmonic.  He performed several of his pieces (to very good reviews) and offered Schoenberg to guest-conduct a concert.  That didn't go too well, and after another attempt (and scathing reviews) Schoenberg gave up on the LA Philharmonic, whose musicians were openly hostile to him and his music.  Klemperer, who left for the East Coast in 1936 was one of many eminent German refugees living around LA.  Many of them settled in the Pacific Palisades, not far from Brentwood.  One of their meeting places was Villa Aurora, the house of the writer Lion Feuchtwanger.  Here are some of the German refugees living in Pacific Palisades at the time: writers Tomas Mann and his brother Heinrich, Franz Werfel and Alfred Döblin; the playwright Bertolt Brecht; philosophers Theodor Adorno, Ludwig Marcuse and Max Horkheimer; Schoenberg's pupil composer Hanns Eisler; F. W. Murnau, the filmmaker and Albert Einstein.  Schoenberg knew most of them but was not necessarily friendly with all.  He developed a difficult relationship with Tomas Mann who wrote Doctor Faustus, a book about the fictitious German composer Adrian Leverkühn who invents a new musical technique, a 12-tone system.  Schoenberg was outraged, accusing Mann of "stealing" from him.  Mann, who did talk to Schoenberg about his music, was helped mostly by Adorno.  Schoenberg's relationship with Adorno was also strained as he felt that the latter didn't quite understand the creative process behind his method.  Here is an interesting quote from Schoenberg himself on the way he composed: "All I want to do is to express my thought and get the most possible content in the least possible space…. I write what I feel in my heart… "
On the other hand, he became close with Hanns Eisler, who became quite successful writing film music.  Eisler worshiped Schoenberg and tried to help him financially, with Schoenberg often refusing the offers.  (Eisler, a life-long Marxist, was one of the targets of the House Committee on Un-American Activities investigation.  He had to leave the US in 1948, settled in East Germany and composed the national anthem of the country).
Even though Schoenberg lived in America for the last 18 years of his life, he never became quite comfortable there and often thought of emigrating to Europe.  That didn't happen.  In 1944 he was diagnosed with diabetes; his health was deteriorating, and he had to give up his UCLA professorship.  He was 70 but had to support himself, as his pension was too small, so he reverted to giving private lessons and occasional lectures.  In 1946 he had a heart attack which almost killed him, but he lived another five years, mostly in seclusion.  Schoenberg died on July 13th of 1951.
During the American period of his life, Schoenberg composed several important works, among them two concertos, one for the violin ("unplayable" in Heifetz's opinion) and one for the piano; one of the few tonal works of the period, Kol Nidre, for chorus and orchestra; and A Survivor from Warsaw, dedicated to survivals of the Holocaust.  Here's Kol Nidre; Riccardo Muti conducts the Chicago Symphony Orchestra and Chorus.
Go to Source
Author: conductor