Tonight's Die Fledermaus from Vienna State Opera was something extra special. It's always special, Otto Schenk's legendary production, the lavish larger-than-life stage sets, especially Orlofsky's Ball. And Vienna State Opera Orchestra relishes Johann Strauss's operetta, elevated to opera staple by great conductors from Kleiber to Karajan. But tonight's performance took place without an audience, before cameras and microphones (for Austrian television, and livestream.) What's daring, and courageous, is that the on-stage cast, perform without social distancing, (albeit regularly tested.) And there's a full orchestra, some masked, in the raised pit.
Conductor Cornelius Meister, dapper in black velvet frockcoat, bearded like a fin-de-siècle Viennese, bounds on. The Overture, a potpourri of sublime melodies, is timeless, like Strauss's Blue Danube Waltz, it could gracefully orbit space.
The Eisenstein's palatial lounge, in cream and gold tones, Biedermeier opulence. Adele, with her feather duster and plaid pinafore, complains that nature made her a chambermaid. Regula Mühlemann scintillates, enchanting but idiomatic wienerisch. Her sister's invited her to Orlofsky's ball, but she can't get away. Rosalinde. (Camilla Nylund) sings of a 'scandal'. All because her husband insulted an official. She must take her pill. Nylund, lying flat-out, has to listen to Adele's 'sick aunt' story, for a night-off. And- who's that singing?- her besotted admirer -a tenor- who'll only leave when she promises a wiedersehen. Nylund's powerful soprano, so often heard in the heavy stuff- Richard Strauss, Wagner- is irresistible in this comic role.
Eisenstein (Georg Nigl) comes in with his inept lawyer, who's actually got his sentence extended. Nylund calms him down; that charge, five days, now eight, she mocks. Adele repeats her sob story, Eisenstein unperturbed, sends her for Viennese takeaway specialities.
Falke, his buddy, (baritone Martin Hässler) persuades Eisenstein to come to Orlofskys; he's got half the ballet corps there. Komm mit mir, reminding Eisenstein of their previous escapades. Including the night Falke, locked-out, had to get home dressed as a bat. (Hence the Bat's Revenge.) Better than prison, but his wife mustn't know. (Eisenstein will be disguised there as Marquis Renard.) These two are gambolling, dancing like kids across the stage. But interrupted by Rosalinde: she sings, he's not dressed for an Austrian prison (where rats bite.) Nigl's Eisenstein, dressed in dinner jacket, cynically tells Adele she's got the night free. 'My poor Gabriel, my poor Rosalinde', commiserate, crocodile-tears, both spending the night alone. So muss ich allein bleiben, in the classic trio. These men! he'll have a good time, while she, the abandoned wife…
The tenor (Michael Laurenz)- what a tenor- puts on Eisenstein's red smoking-jacket. Once they… (did they?) Now he invites her to drink with him. Wine, the consolation. Glücklich ist wer vergisst... Happy, who forgets what can't be changed. Straussian gold, matching the chandeliers. Wonderful, their duet, Laurenz's thrilling tenor, with Nylund's luxuriant soprano. Just as he's about to seduce her; arrives prison Governor Frank.
And Laurenz is so at home- he has Nylund on his lap- he can only be her husband. So 'Eisenstein', to save appearances, is bound for prison. Mein Herr, was dachten sie? the trio drink. And Laurenz gets his goodnight kiss. Nylund, her cleavage bursting, is quite exceptional in a vaudeville role we wouldn't imagine her in.
At the ball, Adele -just gorgeous- arrives posing as an artist. Host Prince Orlofsky (Okka von-der-Damerau, cross-dressed) loves actors, and innocents. Eisenstein, disguised as Marquis, is asked- somewhat ironically- are you a man of honour? Superlative mezzo-soprano Damerau- has a surprisingly high range- in the show-stopper. Anyone not enjoying his hospitality, he'll throw them out. That's his custom. Anyone with an empty glass, he'll throw the bottle at them.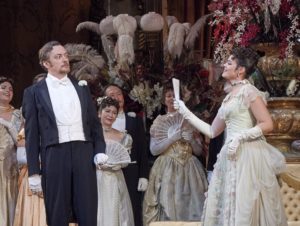 Eisenstein, recognising his servant Adele, have you always been 'Olga? 'The resemblance is so… In Strauss's social satire, the hands are so fine, her speech so refined, they sing. Mein Marquis, the notion is amusing, excuse me if I laugh. Muhlemann's 'Laughing Song' is spectacular, with brilliant coloratura.
Eisenstein's Marquis introduced to 'Chevalier-Chagrin' (Frank) – the confrontation is pure French farce. Paris, Toulouse, they ad-lib a lexicon of franglais. But they bid respect Maskenfreiheit, their freedom to mask. Sort of ironic!
Nylund's Hungarian Countess is almost unrecognisable. Red-haired, diamonté eye mask, sumptuous evening gown. She mugs her husband, Eisenstein's disguised Marquis. Nylund's super-powered Rolls-Royce soprano bedazzles in their duet, a scam. Eisenstein brings out his repeater-watch – his infamous seduction trick- to time 'her heart beating so fast'. She begs to borrow his watch. And drops it down her bra, for evidence.
Rosalinde, challenged to prove she's Hungarian, sings of Hungary, Klänge der Heimat, to czardas beat. Oh, homeland, far from you, but forever in my heart. Ravishing singing from Nyland, but maybe too accomplished, lacking that Hungarian spice.
This huge cast of partygoers are having fun for real (like nowhere else in the world!) And the set is awe-inspiring – right-stage, a huge baroque painting, marble pillars, palatial. Orlofsky calls for champagne, toasts King Champagne. They sway gently, linked in the intimacy of Du (for you), Du-i-du!, and the music is a waltz. The whole thing has such verve and energy.
Brüderlein und Schwesterlein – Damerau elegantly and heartfelt- sung to these guests; in reality this fraternity of artists performing again. (Surprisingly moving -a feast in these arid times.) They're sitting at their tables, singing their hearts out.
There's a ballet, then Orlofsky invites them to join in. They go mad, throw themselves into the polka. Centre-stage, men pick up their white-party-frocked ladies, Opera chorus, supplemented by Vienna State Ballet. They line up in a conga, and collapse on the opera floor. And revive for the Fledermaus Waltz. They sing lustily, and waltz as if second nature. They're Wiener.
To the plot, Eisenstein staggers drunk. They count down the clock. He's a prison appointment at 6.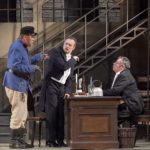 Act 3's prison scene is hilarious, even if you can't follow the Viennese dialect. The exuberant pacing never falters. As Frosch the gaoler the magnificent Peter Simonicek staggers around pissed, ad-libbing from gag-to-gag. (Laurenz, locked-up instead of Eisenstein, won't stop singing.) Frosch empties his schnapps bottle, finds another behind a portrait of Emperor Franz Joseph. He's joined by Frank, straight from Orlofsky's Ball, floating, still miming to orchestral snippets from the Fledermaus Waltz. Puts his legs up behind his desk, reads his worn Wiener Zeitung; and falls asleep, his cigar still smoking through it. The sound of loo flushing; Frosch finishes Frank's cigar. All this music-hall comedy played with such gusto, even without an audience.
As Adele and her sister enter, Frosch has to cover up the wet patch on the floor. And Frank resumes the pose of Chevalier-Chagrin, to Adele's would-be actress, who auditions for him. Mühlemann is, for me, a revelation even singing a country ditty.
Eisenstein's Marquis arrives, amazed his party chum is prison warden, who's already gaoled 'Eisenstein'. Eisenstein cringes as Frosch, stinking of booze, rings the bell for a 'Hungarian Lady'. With the arrival of the lawyer Blind, Eisenstein brusquely pulls off his wig and gown, to interrogate his wife; and we're enjoying high farce. Laurenz tries to bribe gaoler Frosch; then reveals he's a tenor at the Wiener Staatsoper.
In Eisenstein's come-uppance, on his knees, he begs Rosalinde's forgiveness, as she dangles his watch. It was the champagne to blame. Falke arrives; the Bat's Revenge, Chorus sing, it was all a joke against Eisenstein. They toast 'King Champagne'. And Orlofsky will be Adele's 'patron.
The cream of opera, 'They played for Austria', and Wiener Staasoper's livestream © P.R. 1.1.2021
Photos: Michael Laurenz (Alfred), Camilla Nylund (Rosalinde); Georg Nigl (Eisenstein), Regula Muehlemann (Adele); Peter Simonicek (Frosch), Georg Nigl (Eisenstein), Jochen Schmeckenbecher (Frank); Featured Image Regula Muehlemann (Adele)
© Wiener/Staatsoper/ Michael Pöhn
Go to Source
Author: philautus