Our Friday at Opera Philadelphia's Festival O22 provided a surprise for me.  At 2 pm in the afternoon, my wife and I attended a showing of The Copper Queen (2021), a filmed version of a new opera originally scheduled for a staged production by Arizona Opera, but its staging was precluded by the shutdown due to the COVID pandemic.  In the evening at 8 pm, we attended OP's production of Rossini's Otello, the only fully staged, classic opera presented at O22.  Here is my surprise.  I thought they were equally meritorious, each in its own way.  My wife said picking a favorite was difficult, but she'd choose Otello, swayed by its historical aspects, Rossini's music, and tenor Lawrence Brownlee's performance.  Both operas were excellent, but I'm still not sure which opera I'd give the nod as my favorite.  Keep in mind, this is comparing a modern film with a fully staged classic opera, something you should never do; I expect to be trolled.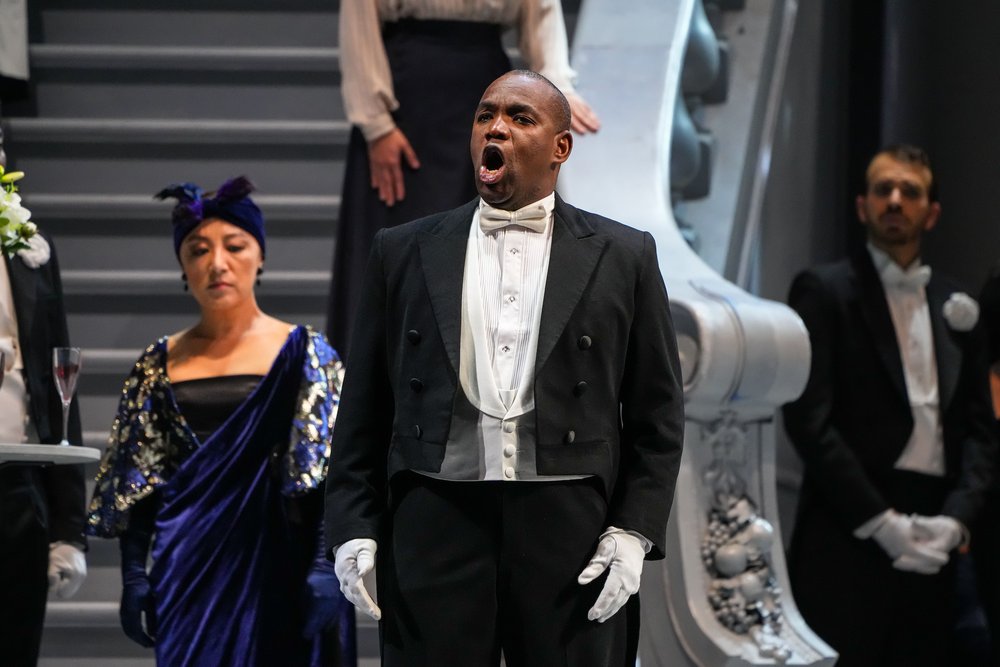 Photo 1: Vanessa Becerra as Julia in The Copper Queen; film still courtesy of Opera Philadelphia. Photo 2: Lawrence Brownlee as Rodrigo in Otello; photo by Steven Pisano, courtesy of Opera Philadelphia.
The Copper Queen, commissioned by Arizona Opera, with music by composer Clint Borzoni and librettist John de los Santos, was first offered last Fall as a film in Arizona screenings and online.  The staged premiere of The Copper Queen was performed in June 2022 by Marble City Opera in Knoxville; Mr. Santos who wrote the original screenplay directed that production.  The story line is based on a real-life figure, Julia Lowell, a prostitute who used rooms in the Copper Queen Hotel in Bisbee, AZ in the early 1900s to service miners at a time when that profession was legal in Arizona.  Ms. Lowell reportedly fell in love with a customer, was rejected, and committed suicide.  Her room in the hotel attracts tourists today, and some say it is haunted by her ghost.  The opera presents her death as a mystery, presenting a fictional Julia.  The opera begins in present day with a young woman, Addison Moore, who is recovering from the death of her grandmother.  She travels to Bisbee to stay in Julia's room as part of her recovery.  The connection between the two women is eventually revealed as the story switches back and forth from 1915 to the present day.  Sorry, I so want to tell you the rest of the story but will resist to save some surprises for you should you get the chance to attend a performance or view a screening.  Warning – I found the film off-putting at first; it shows an ugly, very dark side of humanity, including sexual and physical abuse, including incest, but in the end, it won me over.  Julia and her visitor find redemption and represent inspiring tributes to the resilience of the human spirit.  The phrase, "as long as you are breathing…there is still time", comes to mind and warms my heart whenever I think back on seeing the film.
Below is the official trailer for the The Copper Queen film, available on Youtube.
It is difficult to believe that this was Arizona Opera's first film feature.  Making a film presents new challenges for the director and Crystal Mannich does an outstanding job; the staging with close ups and different camera angles adds to the impact of the drama.  The singer/actors gave marvelous performances singing and acting.  In films, because of the close ups the acting takes on more importance.  The role of Julia is played by Vanessa Becerra, an excellent soprano I have seen a couple of times with Washington National Opera.  The acting skills she demonstrated in this film were also impressive; lots of close ups and no place to hide.  Mezzo-soprano Sarah Coit, who played the role of Addison, also gave strong acting and singing performances.  Both she and Julia seemed like real people you might know; this made the film compelling and absorbing.  The guys also turned in convincing performances, especially Joshua Dennis as her beloved Theodore and baritone Keith Phares as her father (remembering her father makes my skin crawl).  Composer Borzoni's music was melodious, using multiple musical styles to support the drama and produce arias reminiscent of past eras.  Arizona Opera worked with Manley Films to produce The Copper Queen and the film looks like a first-rate Hollywood western where the featured landscapes are human emotions and feelings.  I remember reading that those involved in making Casablanca thought they were making a grade B melodrama for stars Humphrey Bogart and Ingrid Bergman, but all the quality elements fit together in just the right way to make this one of the all-time great films.  I honestly didn't expect The Copper Queen to be as good as it was, but all the parts were very well done, and the film works as a whole, providing a opera on film that is a special work of art.  While it would be possible to nitpick certain aspects of the acting or staging, the overall quality of this work is so much greater than the sum of its parts, I'm not inclined to go there.  The impact of this film was stunning.  I felt pressed into my seat, and when it was over, I doubt there was a dry eye in the house.  Kudos to all involved!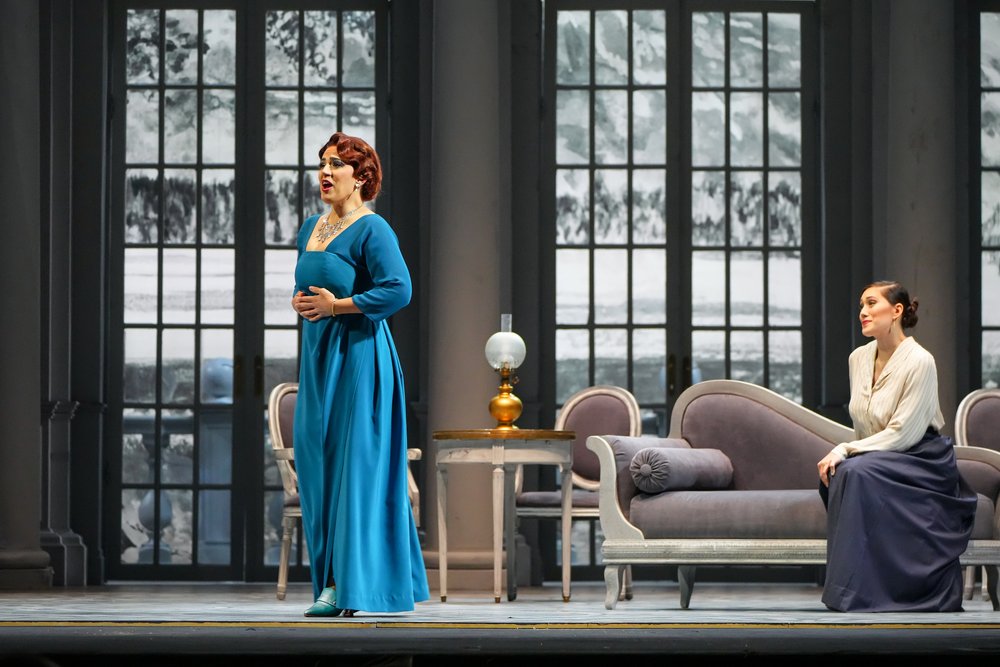 Festival O22's Otello was the Rossini operatic version of Shakespeare's Othello (1603) that premiered in Naples in 1816 and had several decades of popularity until Verdi's Otello came along in 1887 and became more favored by fans and opera companies.  What a fickle opera world it is.  However, if you have a sense of opera history and three fine tenors, you can do Rossini.  And if you have superstar tenor Lawrence Brownlee on your staff as an artistic advisor and he wants to play the role of Rodrigo, you make the choice that Opera Philadelphia did, and we are all the better for it.  Librettist Francesco Berio de Salsa's storyline departs significantly from Shakespeare's, while Verdi's librettist Arrigo Boito stayed truer to the play.  Shakespeare has the drama focused on Otello's suspicions that his wife is untrue with Iago feeding those suspicions, while Othello's wife Desdemona suffers innocently.  Salsa creates a love triangle between Otello, Desdemona, and Rodrigo with Iago fanning the flames of jealousy and Desdemona saying why can't we all just get along.  Regardless, jealousy was 'the green-eyed monster that doth mock the meat it feeds on" still, and it still drove the denouement.  While the Rossini ending also packs a gut punch, it tempted me to laugh.  As soon as Otello strangles Desdemona, all their family and friends and townspeople rush in to tell them that Iago's deception has been uncovered and he has been dealt with, plus Rodrigo and Desdemona's father Elmiro are now okay with her being married to Otello.  Otello looks down from the stairs where the deed was done and realizes his error.  Somehow, I could not help imagining him saying "Whoops".   This was not my reaction to Shakespeare's play.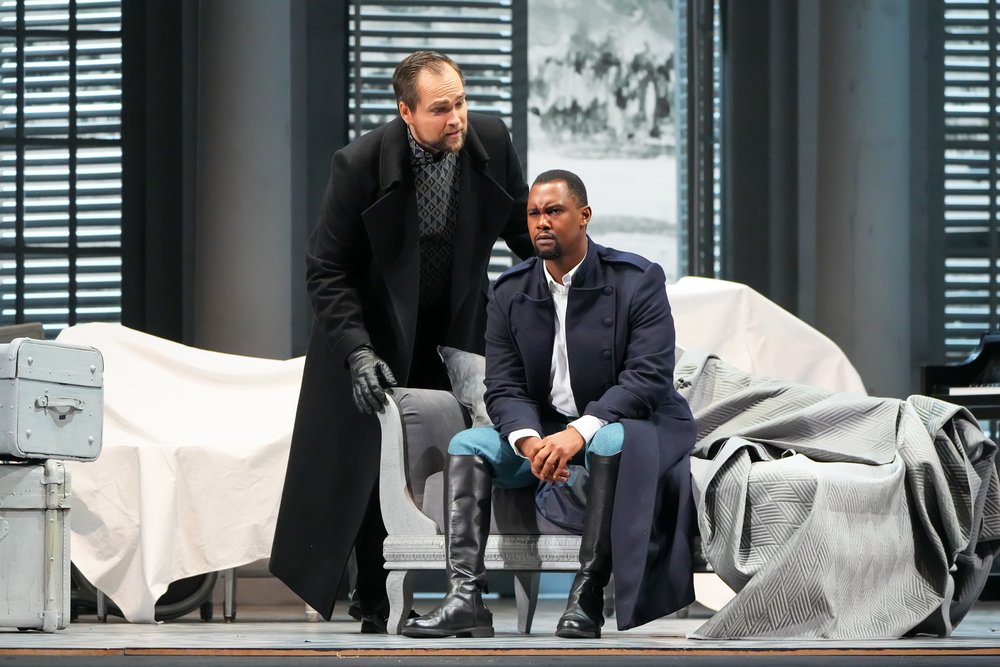 Director Emilio Sagi initiated this production in Liege a year ago. Everything about this production was pretty, pretty music and very pretty singing, an elegant set of one palatial room with pretty people dressed in upper class costumes of 1920s Italy.  It could have just as well served as a drawing room comedy as a Shakespearian tragedy.  The staging and the singing was like a spoonful of sugar helping the tragedy go down. Librettist Salsa's version is a fine drama, but the reason to see this Otello is Rossini's beautiful music and the singing by the outstanding cast that Opera Philadelphia assembled.  Lawrence Brownlee is an outstanding bel canto tenor, perhaps the best today, and he relished playing Rodrigo; Rodrigo and Desdemona are the meatiest roles in this version of Otello.  His solos and duets were events to treasure and remember for years.  In this version, Desdemona is the center of the story and star mezzo-soprano Daniela Mack acted with authority and sang captivatingly.  In his U.S. debut, South African tenor Khanyiso Gwenxane was impressive as Otello, perhaps only a step or two at this point behind Mr. Brownlee.  Tenor Alek Shrader as Iago gave his usual strong performance.  I was also impressed with the vocals of the supporting cast, especially mezzo-soprano Sun-Ly Pierce as servant Emilia, baritone Christian Pursell as Elmiro, and tenor Colin Doyle as the Doge.  Rossini's music was delivered beautifully by Conductor Corrado Rovaris and the Opera Philadelphia Orchestra, and the Opera Philadelphia Chorus under Elizabeth Braden sang beautifully, especially adding depth and presence to Rossini's marvelous ensemble numbers.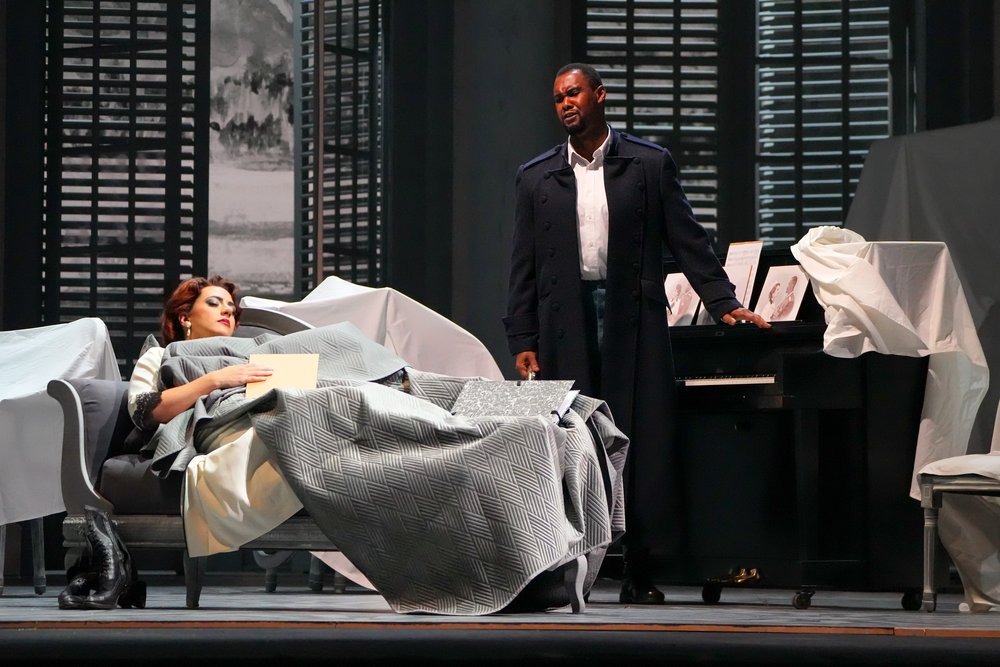 So, two full operas in one day, one on film and one staged, both high impact in their own ways.  In my opinion, with Otello, Opera Philadelphia showed that there are many fine operas that have dropped from the modern repertoire that are worthy of performing and attending, especially with the right cast.  With The Copper Queen, OP shows us that operas properly presented on film can be outstanding as well, featuring gripping dramas and excellent vocal performances.  If both these works are playing in your town and you only have time to see one, what should you do?  Cry.  Well, let's get practical.  Staged performances are one off, and films remain available and the same through time.  In this case, choose Brownlee.
The Fan Experience:  Opera Philadelphia's Festival O22 with its new Opera on Film addition is over.  The Copper Queen had one screening and Otello had four live performances.  Sadly, The Copper Queen film is not currently available for viewing, but Arizona Opera says it may be at some point in the future if demand arises.  I am sending them this report as a beginning. Any chance this could appear in the future on the Opera Philadelphia Channel?
The two-week Festival O22 featured 42 events.  This is an annual festival that was in hiatus for the last two years due to the pandemic.  For O22, COVID-vaccinations and masking were strongly encouraged but not required; let's pray that for O23 they need not even be a consideration.
My advice: Be smart; get on OP's email list to learn about O23 as soon as possible – at the bottom of their website page, you can enter your email address to receive notices from them.  Then will come the hard part – prioritizing which performances to see during a two-week period.  For Festival O22, OP offered 12 film events, three staged productions with multiple performances, concerts, and evening affairs.  There were both matinees and evening performances.  You will have your work cut out for you in deciding.  My wife and I have attended all the fall festivals so far, since 2017, and each has been a highlight of our year. 
Go to Source
Author: Michael Rogers